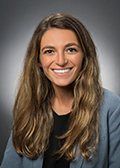 Associate
E-mail: jbardi@k-plaw.com
Phone: 617.654.1723
Practice Areas: General Municipal, Environmental, Land Use, Litigation
Attorney Bardi assists the firm's clients in all facets of municipal, land use, environmental law, and litigation.  She has more than two years of experience counseling clients on general municipal law, land use and environmental law, and government relations.  Her experience includes wetlands and waterfront permitting, Chapter 91 licensing, MEPA, Army Corps permitting, NPDES permitting, and land use and zoning matters.  Attorney Bardi has represented a variety of clients, including municipalities, marinas and boatyards, homeowners, citizen groups, developers, and non-profit organizations.  She has represented these clients in a broad range of cases including wetlands permitting appeals and land use disputes in front of the Massachusetts Superior Court, Massachusetts Land Court, Massachusetts Department of Environmental Protection, and local Conservation Commissions, Planning Boards and Zoning Boards of Appeals.
Prior Experience
Buchanan & Associates
Associate (2016-2018)
Worked on a variety of environmental, land use, and government relations matters, including Chapter 91 licensing and wetlands permitting, Chapter 21E, and land use disputes.
Richard C. Bardi & Associates
Associate (2015-2016)
Worked on general litigation matters, including family law, personal injury, medical malpractice, and criminal law.
Memberships & Affiliations
Massachusetts Bar Association
Environmental Business Council – Ascending Professionals Committee
Justinian Law Society – Scholarship Committee
Education
New England Law Boston
Juris Doctor, 2015, cum laude
University of New Hampshire
Bachelor of Science, 2011