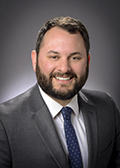 Associate
E-mail: kstiegel@k-plaw.com
Phone: 617.556.0007
Practice Areas: General Municipal, Land Use, Affordable Housing, Tax Title
Attorney Kurt Stiegel joined the firm in 2017 and focuses his practice primarily on general municipal, land use, affordable housing, and tax title law.
Prior to joining the firm, Attorney Stiegel served as law clerk to the judges of the Massachusetts Housing Court where he worked on landlord/tenant, foreclosure, zoning, and public housing matters.  He worked closely with judges, clerks and court personnel from all five divisions of the Housing Court and its administrative office.
During law school, Attorney Stiegel worked full-time for the Massachusetts State Legislature. As research director of the Joint Committee on Housing, he helped draft and pass a $1.4 billion affordable housing bond bill, and comprehensive legislation reforming state public housing operations and governance. As research director for the Joint Committee on Municipalities and Regional Government, Attorney Stiegel worked on legislation related to the zoning enabling act, municipal finance, and home rule petitions, including charter amendments.
Prior Experience
Massachusetts Housing Court, Boston, MA
Law Clerk (2015-2017)
Joint Committee on Housing, MA State Legislature, Boston, MA
Research Director (2013-2015)
Joint Committee on Municipalities and Regional Government, MA State Legislature, Boston, MA
Research Director (2010-2012)
Education
Suffolk University Law School
Juris Doctor, cum laude, 2015
Comments Editor, Suffolk University Law Review
George Washington University (Washington, D.C.)
Bachelor of Arts, 2006
Publications
Author, "Renewable Energy Policy in Massachusetts: How the Commonwealth Should Build Upon the Success of the Green Communities Act of 2008," 48 Suffolk U.L. Rev. 943 (2015)