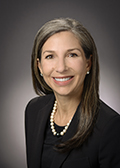 Managing Attorney
E-mail: lgoldberg@k-plaw.com
Phone: 617.556.0007
Practice Areas: General Municipal, Litigation
Attorney Lauren Goldberg has over 20 years of public law experience advising clients on general municipal law issues, and particularly with respect to municipal governance, municipal finance and administrative law, including the Public Records Law, Conflict of Interest Law, and Open Meeting Law. Attorney Goldberg assists numerous client towns in connection with all aspects of Town Meeting, including assisting with preparation of warrant articles, attending pre-meetings with Town officials, advising as to parliamentary procedure, and representing Towns at Town Meetings. She has extensive experience reviewing, drafting, and revising municipal charters, ordinances and bylaws, and assisting municipal clients in interpreting and implementing the same. Attorney Goldberg also advises municipalities concerning the Home Rule Procedures Act and the Home Rule Amendment to the Massachusetts Constitution, drafts special legislation, and assists clients in the legislative process, including testifying on behalf of clients before joint committees of the General Court. Her practice includes regularly drafting by-laws and ordinances and advocating on behalf of clients before the Attorney General with regard to approval of by-laws.
Attorney Goldberg also provides the firm's client municipalities and other municipalities as special counsel advice and written opinions and litigates on behalf of municipalities relative to recalls of elected officials, election recounts, and other elections questions, as well as conducts and supports City and Town Clerks at election recounts
Attorney Goldberg joined the firm after serving as Legal Counsel to the Office of the Secretary of the Commonwealth, Elections Division. In this capacity, she drafted amendments to the state election laws and regulations and assisted city and town clerks in implementing state election laws.
Representative Matters
Represented Amesbury, Salisbury and Newburyport in a district-wide recount of the historically close result in the November, 2014 State Election for the office of State Representative.
Represented the City of Lawrence as special counsel in the controversial November 2013 recount of the office of Mayor.
Represented the City of Taunton as special counsel in a controversial 2011 recount for State Representative.
Conducted recounts in numerous client communities including Acushnet, Carver, Freetown, Hanson, Huntington, Lakeville, Millbury, Oxford, Provincetown, Rehoboth, Sandwich, Sheffield, Sturbridge, Southbridge, Southampton, Templeton, Walpole and Watertown.
Represented the Town of Southbridge as special counsel in a hotly contested special election for State Representative, in which various voter observation groups presented a significant challenge to administration of the election.
Represented the Essex Board of Registrars in connection with challenges to the voter registrations of over 100 voters over a two-year period.
Drafted special legislation for various client communities on a range of matters, from, for example, the use of Community Preservation Act funds in Weston for an existing affordable housing project and the creation of corporation to hold a liquor license in connection with the Town's possible re-use of an historic building to inclusion on the ballot in the Towns of Webster and Watertown of offices to fill untimely vacancies, creation of special funds to address unanticipated significant revenues, as well as legislation ratifying, validating and confirming the Town of Webster's amendment of its charter, and numerous elections and town meetings in various client communities held without sufficient legal notice.
Prior Experience
Office of the Secretary of the Commonwealth, Boston, MA
Legal Counsel,
 Elections Division (1997-2000)
Provided legal advice and guidance to Secretary of the Commonwealth, and state and municipal officials, candidates, legislators, elections staff, and general public about all aspects of election law, including investigating election law violations and drafting and reviewing election legislation and regulations. Served as legal counsel to the State Ballot Law Commission.
Staff Attorney, Public Records Division (1996-1997)
Drafted administrative appeals decisions and advisory opinions regarding the application of the Public Records Law and Public Records Access Regulations to records held by government agencies.
Bar & Court Admissions
Massachusetts Bar
U.S. District Court (Mass.)
First Circuit Court of Appeals
Education
Boston University School of Law
Juris Doctor, 1995
Boston University Law Review
G. Joseph Tauro Scholar
Trinity College (Hartford, CT)
Bachelor of Arts, with Honors, 1991
Honors: Faculty Honors List
Chinese Language Achievement Book Award
Publications
Author, "Municipal Election Administration and Campaign Finance," Massachusetts Municipal Law, Massachusetts Continuing Legal Education, 2002
Author, "Insurance Coverage for Municipalities," Massachusetts Municipal Law, Massachusetts Continuing Legal Education, 2002
Co-Editor, Massachusetts Election Administration, Campaign Finance and Lobbying Law, Massachusetts Continuing Legal Education, 2000
Author, "Voter Registration," Massachusetts Election Administration, Campaign Finance and Lobbying Law, Massachusetts Continuing Legal Education, 2000
Author, "Nominations, Caucuses and Primaries," Massachusetts Election Administration, Campaign Finance and Lobbying Law, Massachusetts Continuing Legal Education, 2000
Author, "Election Day Administration," Massachusetts Election Administration, Campaign Finance and Lobbying Law, Massachusetts Continuing Legal Education, 2000
Author, "Related Federal Laws," Massachusetts Election Administration, Campaign Finance and Lobbying Law, Massachusetts Continuing Legal Education, 2000
Speaking Engagements
Frequently conducts municipal seminars on a range of topics including: Public Records Law; Conflict of Interest Law; Open Meeting Law; Adoption and Amendment of a Municipal Charter; Adoption and Implementation of the Community Preservation Act; and Campaign Finance Law
Frequently conducts municipal seminars on a range of topics including: Public Records Law; Conflict of Interest Law; Open Meeting Law; Adoption and Amendment of a Municipal Charter; Adoption and Implementation of the Community Preservation Act
Presents classes at annual conferences of the Massachusetts City and Town Clerks Association, including, "Essential Roles of the City and Town Clerk", "Hearings before Boards of Registrars and Election Commissioners and General Election Potpourri", "What About Recounts?", "How to Conduct a Recount", "The Mysterious World of Municipal Finance", "Community Preservation Act", "Town Meeting, An Overview", "Charter Adoption and Amendment", "Parliamentary Procedure and Open Meeting Law Update", and "Town Meeting from Soup to Nuts".
"Public Records Law", New Selectman Training Seminar, Massachusetts Municipal Association, 2014
"Data Security", Greater Lowell Chamber of Commerce Municipal Breakfast, April 10, 2014
"Major Changes to Governance Laws", Massachusetts Municipal Association/ Massachusetts Selectmen Association's Leadership Conference for Selectmen, May, 2012, Panel Participant
Massachusetts Election Administration, Campaign Finance & Lobbying Law, Massachusetts Continuing Legal Education Panel, February, 2012
"Freedom of Information and Public Records Law in Massachusetts," Massachusetts Continuing Legal Education Panel, 2011
"Initiating and Responding to Public Records Law Requests", Third Annual Public Law Conference, Massachusetts Bar Association, June 2009
"Hot Topics and Trends in the Open Meeting Law," Massachusetts Bar Association Brown Bag Lunch Series Panel, December 2006
"Town Meeting – Legal Issues in Preparation of the Warrant, Conducting Town Meeting, and Resolving Last Minute Issues," Massachusetts Moderators Association Conference, March 2005
"Criminal Offender Record Information – Revised Regulations and Implementation Thereof," Small Town Administrators of Massachusetts, September 2005
"Driver Privacy Protection Act," Massachusetts Treasurers and Collectors Association Conference, May 2004
"Timeline of a Town Meeting," Massachusetts Town Clerks' Association Winter Conference, February 2003
"Election Law Administration," Massachusetts Continuing Legal Election Seminar, February 2000