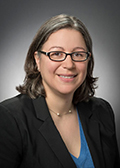 Counsel
E-mail: rstein@k-plaw.com
Phone: 617.556.0007
Practice Areas: Land Use, Real Estate, General Municipal Law
Attorney Robin Stein's practice focuses on a wide range of municipal legal areas including land use, real estate, procurement, opening meeting law, conflict of interest, general litigation, labor/employment and the scope of municipal authority.  She also has extensive experience as a trial attorney representing both public and private sector clients and as an administrator in local government.
Prior Experience
Town of Danvers, Danvers, MA (2016-2018)
Assistant Town Manager
Collaborated with local elected and appointed officials to advance the interests of a Town with approximately 27,000 residents and an operating budget in excess of $100,000,000 with a particular focus in the areas of procurement, technology, insurance, human resources, collective bargaining, legal and public records.
City of Methuen, Methuen, MA (2014-2016)
Chief of Staff
Worked closely with the Mayor and other elected and appointed officials to advance the interests of a City with approximately 50,000 residents and an operating budget of $150,000,000 relative to general government operations, budgets and municipal finance, OPEB, health insurance, land use and economic development, net metering credits, net school spending and long-term planning.
City of Salem, Salem, MA (2011-2014)
Assistant City Solicitor
Advised the Mayor and other elected and appointed officials in matters relating to land use, litigation, Uniform Procurement Act, Open Meeting Law, and municipal governance.
Westhill Technology Counsel, Beverly, MA (2011-2014)
Associate
Provided advice to small and medium-sized businesses with a focus on those that create and use new and emerging technologies.  Served as outside general counsel and provided litigation management services.
MacLean, Holloway, Doherty Ardiff & Morse, P.C., Peabody, MA (2006-2014)
Associate
Represented clients in a variety of complex litigation amtters including land use, municipal, landlord-tenant, employment, probate, trust and estate, guardianship, contract and commercial cases.
Law Offices of Charles F. Houghton (2004-2006)
Associate
Provided full service representation to clients in the areas of residential and commercial real estate, land use and municipal permitting.
Bar & Court Admissions
Massachusetts Bar
U.S. District Court (Mass.)
U.S. Court of Appeals for the First Circuit
Education
Suffolk University Law School
Certificate in Local Government Leadership and Management, 2015
Northeastern University School of Law
Juris Doctor, 2002
American University
Bachelor of Arts, 1999