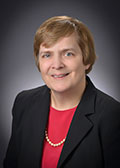 Shareholder
E-mail: bsaintandre@k-plaw.com
Phone: 617.556.0007
Practice Areas: General Municipal, Land Use, Real Estate, Litigation
Attorney Saint André assists the firm's clients in all facets of municipal, land use, real estate and related litigation. She has more than thirty years of experience counseling clients on general municipal law, zoning, real estate, subdivision control law, chapter 40B comprehensive permits, chapter 40R, wetlands, board of health, town meetings, historic districts, municipal finance, licensing, enforcement and litigation. She is a frequent speaker on both land use and general municipal law topics, including programs sponsored by CPTC, Massachusetts Continuing Legal Education, Mass. Association of Planning Directors, Massachusetts Municipal Lawyers Association, and the Massachusetts Municipal Association.
Attorney Saint André has represented clients in a broad range of cases, including zoning enforcement and appeals, comprehensive permits, the Telecommunications Act, the Subdivision Control Law, Board of Health, wetlands, licensing, and general municipal litigation before all levels of the Massachusetts trial courts, the United States District Court, the Massachusetts Appeals Court and Supreme Judicial Court, as well as administrative agencies including the Housing Appeals Committee, Alcoholic Beverages Control Commission, and Department of Environmental Protection.
Representative Matters
Cumberland Farms, Inc.

v.

Walpole Zoning Board of Appeals

, 61 Mass. App. Ct. 124 (2004) Successfully defended Board of Appeals denial of special permits to alter and extend the nonconforming use of the property.

Fanta

v.

Board of Health of Braintree

– Rule 1:28 (2006) Successfully defended Board of Health against challenge to tobacco sale regulations.

Marinelli

v.

Board of Appeals of Stoughton

, 65 Mass. App. Ct. 902 (2005) Plaintiff unsuccessfully argued that the Stoughton Zoning By-law should be interpreted to allow grandfathered lot protection more generous than state law.

Wyman

v.

Grafton

, 47 Mass. App. Ct. 635 (1999) Successfully defended the Town against civil rights claims arising out of the grant of a variance with conditions.
Prior Experience
Petrini & Associates, P.C., Framingham, Massachusetts
Principal, 2006 to 2015
Concentrated in municipal practice with emphasis on general municipal law, land use, comprehensive permits, and litigation. Represent cities and towns as counsel and special counsel in all areas of municipal law, including zoning, permitting, litigation, Subdivision Control Law, wetlands, affordable housing, board of health, enforcement, town meetings, contract, licensing, and Open Meeting Law. Tried cases before the Land Court, Superior Court, Housing Appeals Committee, Alcoholic Beverages Control Commission, and other courts and state agencies.
Kopelman and Paige, P.C., Boston, Massachusetts
Principal, 1985 to 2006
Concentrated in municipal and land use law and litigation. Advise officials and represent municipalities and housing authorities in administrative and state and federal court litigation in all areas of municipal law, including: zoning and land use, Board of Health, comprehensive permits, housing, Civil Service, Wetlands Protection Act, Subdivision Control Law and licensing and employment issues. Tried numerous cases before the Superior Court and Land Court, and represented towns in dozens of appeals before the Housing Appeals Committee. Conduct seminars for client municipalities in a broad range of issues, including comprehensive permits, land use, licensing and open meeting law. Argued cases before the Appeals Court and Supreme Judicial Court.
Murphy, Lamere and Murphy, Braintree, Massachusetts
Associate, 1982 to 1985
In this general practice law firm, concentrated in litigation, municipal and labor law.  Represented numerous municipalities in labor issues, including strike petitions, Labor Relations Commission, Civil Service, and arbitration, and extensive court appearances.
Massachusetts Superior Court, Boston, Massachusetts
Law Clerk, 1981 to 1982
Law clerk to justices of the Superior Court in the Superior Court of Suffolk and other counties. Researched and drafted memoranda in all types of civil and criminal litigation. Worked closely with a number of Superior Court Justices in both trial and motion sessions.
Memberships & Affiliations
Massachusetts Bar Association
Real Estate Bar Association
The Abstract Club
Massachusetts Municipal Lawyers Association
Massachusetts Association of Planning Directors
Massachusetts Association of Conservation Commissions
Association of Town Finance Committees
Bar & Court Admissions
Massachusetts Bar
U.S. District Court (Mass.)
U.S. Court of Appeals, First Circuit
Us. Court of Appeals, D.C. Circuit
U.S. Supreme Court
Education
Suffolk Law School
Juris Doctor, 1981, cum laude
Suffolk University
Bachelor of Science, 1979, summa cum laude