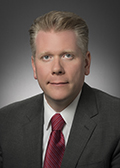 Member
E-mail: mfeher@k-plaw.com
Phone: 617.654.1818
Practice Areas: General Municipal, Public Contracts, Public Finance, Municipal Infrastructure, Government Relations
Public clients, particularly municipalities, partner with Matt to resolve sophisticated project delivery and finance issues drawing upon his extensive experience working on behalf of local government for over a decade prior to his legal career. He brings this practical know-how in making the legal and business decisions entailed in achieving his clients' objectives, and has helped to implement innovative solutions that uniquely serve the communities that he represents.
Matt partners with state and local governments and public authorities in Massachusetts and throughout New England in connection with the procurement, design, construction, financing and governance of water, wastewater and solid waste utilities, public building and civic projects. He also acts as bond counsel, underwriter's counsel and trustee counsel in connection with the issuance of tax-exempt municipal securities.  Matt is a thought-leader on public-private partnerships (P3), regularly speaking throughout the nation on the topic as well as serving as a resource to state and local elected officials on the subject.
Matt is uniquely qualified to represent his clients, having advocated the interests of the Commonwealth's 351 cities and towns at both the state and federal levels of government as a senior lobbyist with the Massachusetts Municipal Association (MMA) for a decade prior to practicing law. Throughout this time, he was active on legislative issues, executive branch decisions, and state-level court cases involving municipal finance, public works, transportation, public utilities, procurement, real estate development, zoning and municipal and regional administration matters.
By way of example, Matt served on several task forces and commissions including the Massachusetts Legislature's Special Commission on Public Construction Reform that restructured the state's public construction and bidding laws, notably authorizing the use of alternative delivery of public horizontal and vertical projects including Design/Build and CM at Risk. He also served on the board of directors for the Massachusetts Highway Association Board of Government for ten years as legislative counsel.
His commitment to government extends beyond the office, as Matt is an active member of the Massachusetts Municipal Lawyers Association (MMLA) as both a member of the Executive Committee and Vice-President of the Association.  Besides local government, Matt serves in leadership roles on various trade groups involved with his profession including serving on the Standing Legal & Legislative Committee of the national chapter of the Design/Build Institute of America based in Washington DC.
A frequent speaker on the regional and national stage, Matt covers timely topics involving public project finance, public law and policy. By way of example, he spoke on the topic of municipal bond financing procedure and authorization at the MMA Annual Meeting & Trade Show and MCLE Municipal Law Conference, provided insight to the Kentucky Chamber of Commerce in connection with the state's newly enacted public-private partnership (P3) law, and provided attendees an overview of the state legislative landscape at the P3 Connect Conference in Chicago hosted by the National Council for Public-Private Partnerships. MMA and MMLA have also relied on Matt to provide training programs on the state's open meeting and public records laws. Attorney Feher is a registered legislative and executive agent with the Commonwealth and provides government relations services as part of his practice.  
Representative Matters
A

ssist the City of Somerville in connection with the development and implementation of the City's P3 programming in order to deliver and finance legacy capital infrastructure projects.

Acted as legal counsel to the newly created Southfield Redevelopment Authority in connection with the redevelopment of the former Naval Air Station in South Weymouth, Massachusetts, including successful implementation of its Enabling Act, negotiation of state tax, financing and infrastructure improvement agreements, selection of a new master developer and advancement of redevelopment activity.

Assisted the town of Weymouth negotiate and enact legislation that re-ignited development activity at NAS South Weymouth and negotiated a project agreement with the master developer to enhance the town's role in the project and provide millions of dollars in direct mitigation payments.

Helped the city of Newport, Rhode Island comply with a state consent decree by delivering a state-of-the-art $67 million waste water treatment works facility using Design/Build, one of the first of its kind sanctioned by the state.

Counseled the Rhode Island Turnpike and Bridge Authority in connection with a P3 to improve the Newport Pell Bridge.

Acted as special counsel to the town of Mansfield, Connecticut in developing and negotiating a P3 water supply agreement with a private water company and University of Connecticut to supplement the water supply serving the town and the university's Storrs campus.

Act as bond counsel, underwriter's counsel, trustee counsel and bank counsel in connection with the issuance of tax-exempt security issues throughout Massachusetts, New York and Rhode Island.
Prior Experience
Counsel, Burns & Levinson LLP 2014-2018

Associate, Pannone Lopes Devereaux & West LLC 2010-2014

Senior Legislative Analyst, Massachusetts Municipal Association 2000-2010
Honors & Awards
Named one of the select few "Up and Coming Lawyers" by Massachusetts Lawyers Weekly in 2018

Recipient of the Robert W. Ritchie Special Achievement Award by the Massachusetts Municipal Lawyers Association in 2015
Memberships & Affiliations
Design-Build Institute of America (New England Chapter Board and National Legal and Legislative Committee Member)

Massachusetts Municipal Lawyers Association (Vice-President and Board Member)

National Association of Bond Lawyers

National Council on Public-Private Partnerships

Veterans Legal Services (Development Committee Member)
Bar & Court Admissions
Massachusetts Bar
New York Bar
U.S. District Court (Massachusetts)
Education
New England School of Law
Juris Doctor, 2009
Recent Presentations
"Becoming a Better Borrower:

 

Municipal Bond Basics," Speaker, Massachusetts Municipal Association Annual Meeting & Trade Show, January 2020
"Municipal Borrowing,"

 

Speaker, 2019 Annual MCLE Municipal Law Conference, March 2019
Public Private Partnerships Infrastructure Delivery," Speaker, Massachusetts Municipal Lawyers Association, December 2017
"Public Records Law Update," Speaker, 2017 Annual MCLE Municipal Law Conference, March 2017
"Public Access and the New Public Records Law," Panelist, WGBH and The Eye Special, January 2017
"Current Rhode Island State Legal P3 Framework," Speaker, Rhode Island Special Legislative P3 Commission, December 2016
"Permitting and Enforcement – What Local Officials and Municipalities Need to Know on State and Federal Developments under the Clean Water Act," Moderator, Massachusetts Municipal Lawyers Association Program, December 2016
"Open Meeting and Public Records Law," Speaker, Massachusetts Selectmen's Association Annual Fall Conference, October 2016
"First Steps in the P3 Process," Speaker, Kentucky P3: Public-Private Partnerships Conference, October 2016
"P3 Bootcamp," Speaker, National Council of Public-Private Partnerships Boston Bootcamp, October 2016
"Opening the Books on the New Public Records Law," Speaker, Massachusetts Municipal Association and Massachusetts Municipal Lawyers Association Seminar, September 2016
Recent Publications
"New Municipal Bond Continuing Disclosure Rules Adopted," KP Law e-Update, January 2019
"SJC Upholds Broad Termination for Convenience Clause in Public Contracts," KP Law e-Update, January 2019
"What Charter Schools Need to Know About the 2016 Public Records Law Overhaul," Burns & Levinson Schools & Colleges Update, September 2016
"Public Records Overhaul Signed Into Law," Burns & Levinson Municipal Law Update, June 2016
"Public-Private Partnerships Bridge Gaps," Banker & Tradesman, May 2016
"Public-Private Partnerships Offer Alternative Model for Water Infrastructure Projects," MMA Municipal Advocate, May 2015
"Solving the Public Works Infrastructure Funding Gap: Public-Private Partnerships," Municipal Law Quarterly, Spring 2015